Our Live broadcast from East Lansing Michigan kicks off at 8:00am Saturday morning March 17.
When our 10 minute show goes live that morning we'll be giving away gift cards to local restaurants to the students in the best costumes. We also have some great guests lined up and the MSU Irish Dance Club will perform!
We'll be surrounded by 10,000 college kids some of which are acting like buzzed grade schoolers. It's college party…not a family event.
The city of E.L. is taking action to keep the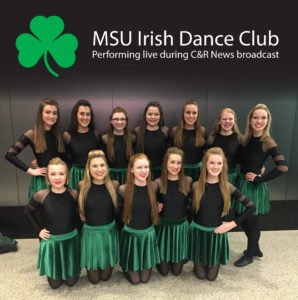 MSU students and citizens safe. Anyone that
gets carried away drinking is allowed to keep their car overnight in many of the city parking lots. The city also adding to their police force that day and night.
Expect lots of friendly police biking, walking and riding horses around E.L.
CATA bus is offering free Entertainment Express trolley rides
on Saint Patrick's Day from 4p.m. to 3 a.m. The trolley travels between Lansing and East Lansing every 15 minutes, serving designated stops along the Michigan/Grand River Avenue corridor. For schedule details, visit www.cata.org.
Learn more about C&R News at: www.CRnews.Biz