LANSING – Thirteen new or expanded COVID-19 drive-thru testing sites across the Michigan
Expanded testing is available through a partnership involving the Michigan Department of Health and Human Services (MDHHS), Michigan Primary Care Association, 11 health centers, and NxGen MDX Laboratory.
The efforts will increase Michigan's daily COVID-19 testing capacity by about 40 percent when fully operational. They include:
Nine new drive-through testing locations and expansion of three existing centers where residents can be tested for COVID-19 without leaving their vehicles, plus additional testing at a location yet-to-be-determined in Detroit.
Use of a new commercial laboratory in Grand Rapids that can run upwards of 3,000 tests per day, which would increase Michigan's average number of results every day by about 40 percent.
The drive-thru test locations are opening on a rolling basis, beginning today through next week.
They are:
Atlanta (between Gaylord and Alpena): Thunder Bay Community Health Service, 11899 M-32, 989-733-6827.
Bad Axe: Great Lakes Bay Health Centers, 876 N. Van Dyke Rd, 989-623-0137.
Battle Creek: Grace Health, 181 W. Emmett St., 269-441-3463.
Bay City: Great Lakes Bay Health Centers, 3884 Monitor Rd, 989-671-2000.
Benton Harbor: InterCare Community Health Network, 800 M-139, 855-869-6900.
Detroit: Details to come.
Flint (Open beginning on Wednesday): Atwood Stadium, parking lot entrance off West 1st Street, details to come.
Grand Rapids: Cherry Health, 200 Sheldon Street SE, 616-965-8347.
Jackson: Center for Family Health, 505 N. Jackson St., 517-748-5363.
Kalamazoo: Family Health Center, 117 W Paterson St., 269-488-0804.
Lansing: Ingham Community Health Centers, 2316 S. Cedar St., 517-887-4517.
Saginaw: Great Lakes Bay Health Centers, 501 Lapeer Ave., 989-293-3492.
Traverse City: Northwest Michigan Health Services, 10767 Traverse Highway, 231-642-5292.
In addition to those 13 locations the two buttons below show more testing site options:
Dearborn Michigan CVS Pharmacy test site:  Patients will need to pre-register in advance online at CVS.com in order to schedule a same-day time slot for testing. To help ensure the safety of both patients and health care providers, the testing site cannot accommodate walk-ups and patients are required to remain in their vehicles throughout the entire testing process.
The 13 Drive Thru Testing Sites following these rules: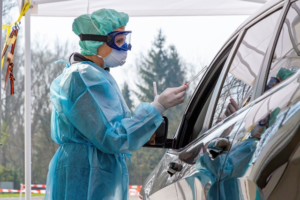 Who Can Get Tested First: 
People must meet Michigan's coronavirus testing priority criteria to be tested at the sites. They should first contact the site's patient screening telephone line or their health care provider if seeking testing. Michigan's testing priority criteria include: 
– Patients age 65 and older with symptoms.
– Patients with underlying conditions with symptoms.
– First responders with symptoms.
– Critical infrastructure workers with symptoms.
– Hospitalized patients.
– Symptomatic healthcare workers.
– Patients in congregate facilities with symptoms, including those at:
– Long-term care or elderly living facilities.
– Jails or prisons.
– Homeless shelters.
– Residential foster care facilities.
– Other group living settings.